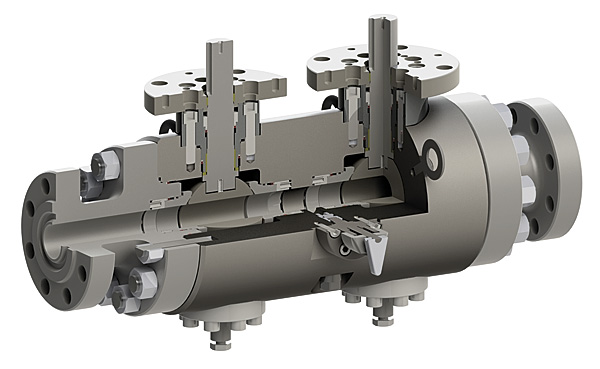 Double Block and Bleed Ball Valves are aimed to get a double barrier on the piping, and bleed the fluid trapped between the two balls from a dedicated drain line. Body construction can be either forging or centrifugal casting. Wide range of materials: carbon steels, austenitic or martensitic SS, duplex-superduplex SS, nickel-based alloys.
Valve design can be either Trunnion or Floating type, anti blow-out stem and typically SPE seat design. Drain port is normally provided with a floating ball valve, to be fitted with Final User drain line. Valve seats can be soft or metal to metal hard-faced.
Main reference codes:
Standard design in accordance with API 6D / ASME B16.34 / API 6A.
Antistatic design as per API 6D and ISO 17292.
Valve ends can be flanged (RF, FF, MF or FF, RTJ), according to ASME B16.5 (up to 24") or ASME B16.47 (26" and above), Butt-Welding according to ASME B16.25, or Hub, according to customer Requirements.
Fire Safe according to BS6755 / API 6FA / API 607, since each sealing point is provided by a secondary fire-safe seal in graphite. Valve soft seats also are provided with secondary metal-to-metal seal in case of fire.